Sensible provision
Take your pension into your own hands and close your pension gap today.

Old, poor, female: this is a fate shared by women all over the world. Unfortunately. After retirement, women have significantly less money than men. This so-called gender pension gap is 37 percent in Switzerland. We want to change that together with you. Pillar 3a is a good way for working people to do this. If you invest in it, you have a long investment horizon with the third pillar and save taxes.
How? With elleXX 3a and Vontobel
With the elleXX 3a pension solution in cooperation with Vontobel and the Vontobel 3a Pension Foundation, you can make sensible provisions. The sustainability-oriented family business is managed by a new young generation. This generational change is also reflected in the investment area: Vontobel has made a contractual commitment to elleXX to explicitly add investments that take particular account of equality and diversity above a certain volume.
Vontobel plays a pioneering role in the selection of sustainable products in Switzerland and prevents greenwashing, among other things, by requiring transparency in sustainable investment products.
Invest for the long term

Women usually have higher pension gaps. So it's especially important that you start looking at your pension provision as early as possible and invest for the long term.

Fair fees

You pay 0.48% bank charges per year. The product costs vary depending on the investment strategy chosen, but amount to a maximum of 0.26% of the pension assets.In total, the total costs amount to a maximum of 0.74% (TER = Total Expense Ratio), if you choose the highest share proportion.

Retirement savings with a click

With elleXX 3a you can make uncomplicated provisions at the click of a mouse. The big advantage: you have full transparency over your pension assets at all times.

For all

With our 3a solution, you receive a digital 3a custody account managed by experts - for as little as CHF 500.
You already have a 3rd pillar?
No problem, you can move it to the elleXX 3a solution.
Expertise from one of the largest managers of Swiss pension assets
With Bank Vontobel AG as your cooperation partner, you are choosing one of the leading asset managers in the area of pension provision in Switzerland. Bank Vontobel AG stands behind the elleXX vision and pursues the goal of advancing important topics such as diversity and sustainability.
Thank you
Your request was sent successfully.
We have registered the following contact information from you:




Click on the button to continue.
Click on the button to continue.
Scan this QR code with your smartphone.
Please log in to complete onboarding
We have sent an email to your address. Click on the link and continue your onboarding here.
Nice that you are already in!
You started your onboarding already. Click on the button to finish it. Click on the button to access your personal 3a account
Click on the button to continue.
Scan this QR code with your smartphone.
Something went wrong during the onboarding. See error details below
Already completed elleXX-3a? Log in and return to this page.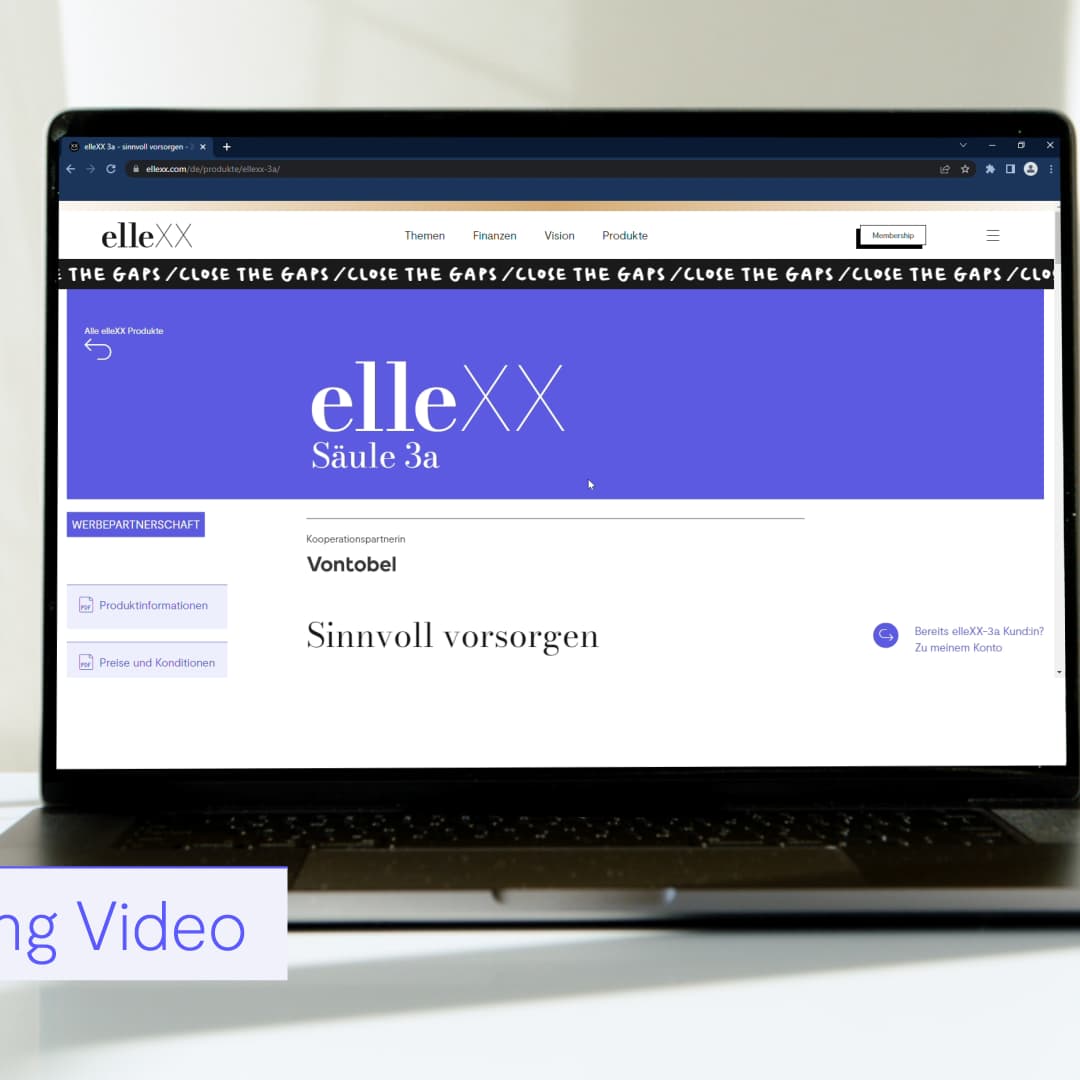 This is how online onboarding works!
You are only a few steps away from your elleXX 3a solution!
To make the registration process as easy as possible, we would like to give you a few tips and information before you start:
– Download the Vontobel Access app from the Apple App-Store or Google Play Store
– The process can be interrupted and continued at any time
– You will need your AHV number and an identification document (ID or passport).
Registration takes place in two phases:
First with the account opening
Then with the elleXX 3a product opening. In each phase you have to sign a contract.
Watch out, your login is shown at the beginning of the second phase. It starts with "bv". Don't forget to write it down or take a picture (screenshot). You can always contact us to get your login!
At the end of the second phase, it may take a few minutes until your portfolio is ready. This is normal as we create your portfolio and create your personal IBAN number.
When opening your account you will be asked to do a video identification. This is possible during the week from 8:00 to 20:00 and on Saturday from 8:00 to 16:00. But again, don't worry, just get started!
Some questions may feel intrusive, but they are necessary from a legal point of view and help us to calculate your "risk profile" and offer you the most suitable 3a solution.

Any questions?
We would be happy to explain a few more terms to you:
– Your investment horizon: do you plan to invest for your pension in the long term or do you need the money a little earlier, e.g. to buy a property?
– Your annual average income (or net income): is the sum of your annual net salary and other income, such as investment income.
– Your net wealth: is the sum of your assets (investments, cash, real estate) minus your debts.

Please note that your risk profile is only a guide. You can always adjust your strategy to a higher or lower risk, as we offer a total of 5 investment strategies.
We hope that this information is helpful for you. If you have any questions or problems, please feel free to contact us at elleXX@vontobel.com.
We wish you every success and pleasure with your 3a retirement savings from elleXX + Vontobel and look forward to welcoming you as a client.
Your elleXX x Vontobel team

Let's go!
Need more info?
Our experts are there for you: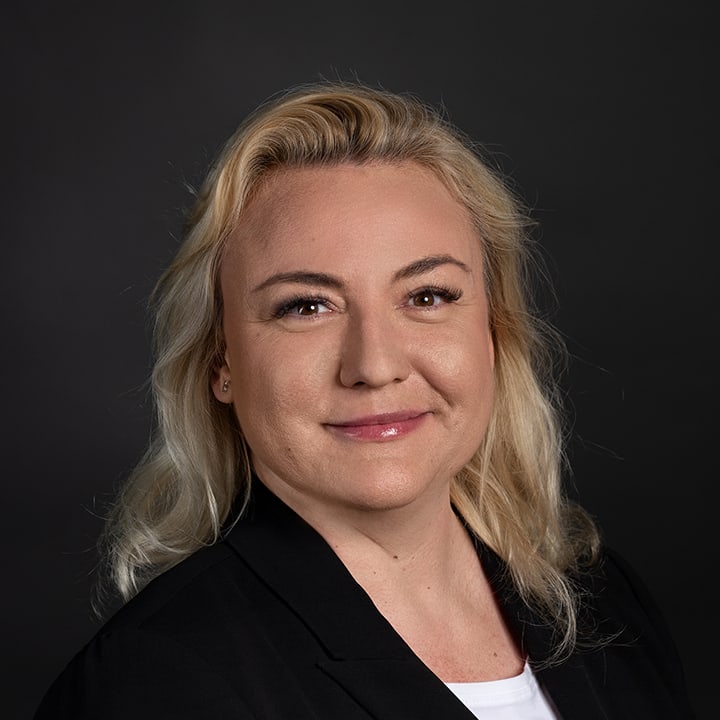 Katarina Bandur is your Investment Advisor. She has been with Bank Vontobel for 27 years and was inspired by her mother to enter the world of finance. She is happy to introduce you to financial topics and in her personal consultations she is keen to let women like you benefit from her many years of experience.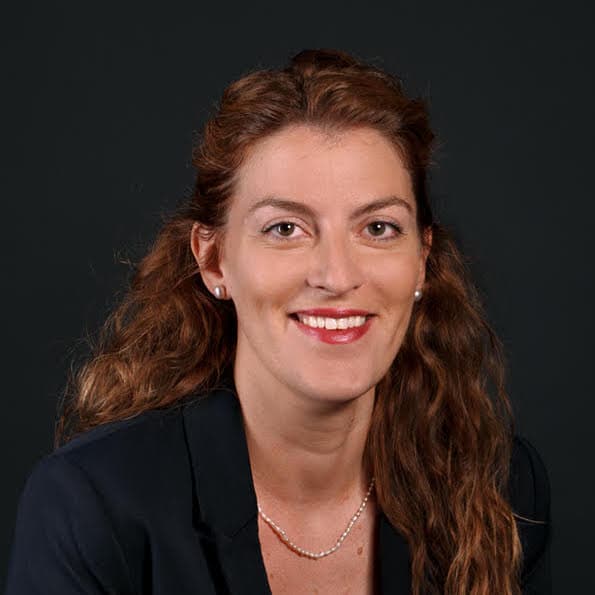 Evi Stergiou is your financial planner. She has been a financial planner for more than 10 years and is passionate about helping women achieve their financial goals.